Nostalgia by an Unfinished Idea of Chile. The Case Study of "Ramona"
Keywords:
TV series, History, authorship, Chile, Fiction
Abstract
Relying on a qualitative methodology combining narrative and visual analysis, this article discusses the Chilean television series Ramona (Wood Producciones, 2017-2018). Collecting data through a reception diary, a close viewing of the twelve episodes of the show, and highlighting key features of its conditions of production, we argue that Ramona contributes to better understand Wood's work and characterize its authorship (regarding issues, aesthetics, and narrative). Wood's authorship has been studied by analyzing his films but not his television's productions. The analysis also demonstrates that Ramona inserts History (and it is embedded on it) through its visual grammar and by using references operating as nostalgic clues. Within such paths of reading, Ramona contributes to Chilean memory and identity and to better comprehend nostalgia's role in contemporary television fiction. Finally, despite its very local remarks, Ramona also evokes larger processes common to Latin American's contemporary history, such as rural-to-urban migration, the lack of housing, the urban poverty, the emergence of masses (sujeto popular), and grassroots political movements.
References
Alcàzar Garrido, Joan del Alcázar (2013). Chile en la pantalla. Cine para escribir y para enseñar la historia (1970-1998).Valencia: Publicacions de la Universitat de València.
Araujo, Kathya (2019). Hilos tensados. Para leer el octubre chileno. Santiago de Chile: Editorial USACH.
Baron, Jaimie (2014). The Archive Effect: Found Footage and the Audiovisual Experience of History. London & New York: Routledge.
Berchenko, Pablo (2020). Mémoire intime et mémoire historique dans le film chilien Mon ami Machuca, 2004, d'Andrés Wood, Cahier d'etudes romanes 41:217-232, https://doi.org/10.4000/etudesromanes.11078
Bisama, Álvaro (10 de diciembre 2017). Ramona: la historia secreta de Chile. La Tercera. https://www.latercera.com/voces/ramona-la-historia-secreta-chile/ consultado por última vez el 11-05-2011).
Cáceres, Yenny (17 de noviembre 2017). Historia secreta de Chile. Qué Pasa. http://www.quepasa.cl/articulo/guia-del-ocio/2017/11/historia-secreta-de-chile.shtml/ (consultado por última vez el 05-04-2021).
Casetti, Francesco (1989). El film y su espectador. Madrid: Cátedra.
Casetti, Francesco y Di Chio, Federico. (1991). Cómo analizar un film. Barcelona: Paidós Ibérica.
Cavallo, Ascanio, Douzet, Pablo y Rodríguez, Cecilia (1999). Huérfanos y perdidos: El cine chileno de la transición, 1990-1999. Santiago de Chile: Uqbar.
Cortés, Alexis (28 de octubre de 2007). La toma de terrenos de la Población La Victoria. Rebelión. https://rebelion.org/la-toma-de-terrenos-de-la-poblacion-la-victoria/ (consultado por última vez el 05-04-2021).
Couldry, Nick (2000). Inside Culture. Re-imagining the method of cultural studies. Londres: Sage.
Charaudeau, Patrick (2005). Les médias et l'information. L'impossible transparence du discours. Bruselas: Éditions De Boeck Université.
Estévez, Antonella (2005). Luz, cámara, transición: el rollo del cine chileno de 1993 a 2003. Santiago: Radio Universidad de Chile.
Franco, Humberto (2012). Ciudadanos de ficción: representaciones y discursos ciudadanos en las telenovelas mexicanas. Guadalajara: Universidad de Guadalajara. http://publicaciones.cucsh.udg.mx/pperiod/cgraduados/pdf/2011/2_2011_Ciudadanos_de%20ficcion_representaciones_y_discursos_ciudadanos_en_las_telenovelas.pdf (consultado por última vez el 05-04-2021).
García, Luis (2016). El lenguaje de las series de televisión. Buenos Aires: Eudeba.
Genette, Gerard (1989). Figuras III. España: Editorial Lumen.
Greimas, Julius (1987). Semántica estructural. Madrid: Gredos.
Hurtado, María de la Luz (1989). Historia de la Televisión en Chile (1958-1973). Santiago de Chile: Ceneca.
In Mihelj, Sabina y Huxtable, Simón (2018). From Media Systems to Media Cultures. Understanding Socialist Television. New York: Cambridge University Press. http://dx.doi.org/10.1017/9781108525039
Lobato, Ramón (2019). Netflix Nations: The Geography of Digital Distribution. New York: New York University Press.
López, María de Lourdes y Nicolás, María Teresa (2016). "El análisis de series de televisión: construcción de un modelo interdisciplinario". ComHumanitas: Revista Científica de Comunicación, 6 (1): 22-39. http://comhumanitas.org/index.php/comhumanitas/article/view/20154. (consultado por última vez el 05-04-2021).
Maldonado, Pablo (2019). Intertextualidad fílmica y musical en tres largometrajes de Andrés Wood: Una aproximación hacia el análisis semiótico-musical del cine chileno de la transición. Tesis Licenciatura., Santiago: Universidad Alberto Hurtado.
Martín-Barbero, Jesús y Muñoz, Sonia (1992). Televisión y melodrama. Géneros y lecturas de la telenovela en Colombia. Colombia: Tercer mundo editores.
Martín-Cabrera, Luis; Voionmaa, Daniel Noemi (2007). "Class Conflict, State of Exception and Radical Justice in Machuca by Andrés Wood", Journal of Latin American Cultural Studies, 16 (1): 63-80. http://dx.doi.org/10.1080/13569320601156779
Mayorga, Emilio (2016, April). "MipTV: Chilean Producer María Elena Wood on MipDrama Screenings Entry "Ramona"". Series features at Cannes MipDrama Screenings. Variety. https://variety.com/2016/tv/global/ramona-andres-wood-mipdrama-screenings-cannes-1201746474/#! (consultado por última vez el 05-04-2021).
Memoria Chilena (S/F). La reforma agraria (1962-1973). http://www.memoriachilena.gob.cl/602/w3-article-3536.html (último acceso 05-04-2021).
Paranaguá, Paulo (Ed.). (2003). Cine documental en América Latina. Madrid: Cátedra.
Parraguez, Marcial (2017). "Hablan las protagonistas de "Ramona": "Chile está lleno de familias luchando por no tener que vivir en la mierda." Pousta. https://pousta.com/entrevista ramona-giannina-fruttero/ (consultado por última vez el 05-04-2021).
Rodríguez, Susana (2016). "Propuesta metodológica para el análisis de ficciones históricas televisivas: el ejemplo de La Señora". Cuadernos.info 39: 181-194. https://doi.org/10.7764/cdi.39.823
Salinas, Claudio: Santa Cruz, Eduardo; Stange, Hans y Santa Cruz G., José (2018). "¿Géneros o estrategias? Discursos históricos y cinematográficos en el cine chileno de ficción", Aisthesis 63: 9-25. http://dx.doi.org/10.7764/aisth.63.1.
Sánchez, Rafael (S/F). Las callampas. [Video]. 16mm, 19 seg.https://archivos.uc.cl/handle/123456789/25196 (consultado por última vez el 05-04-2021).
Santa Cruz, Eduardo (2018). "Discursos sobre la historia nacional en el cine chileno de ficción", Re-presentaciones 9: 13-32.
Vilches, Patricia (2013). "Violeta se fue a los cielos de Andrés Wood: El naufragio de La Carpa de La Reina", Revista Internacional d'Humanitats16 (29): 63-80.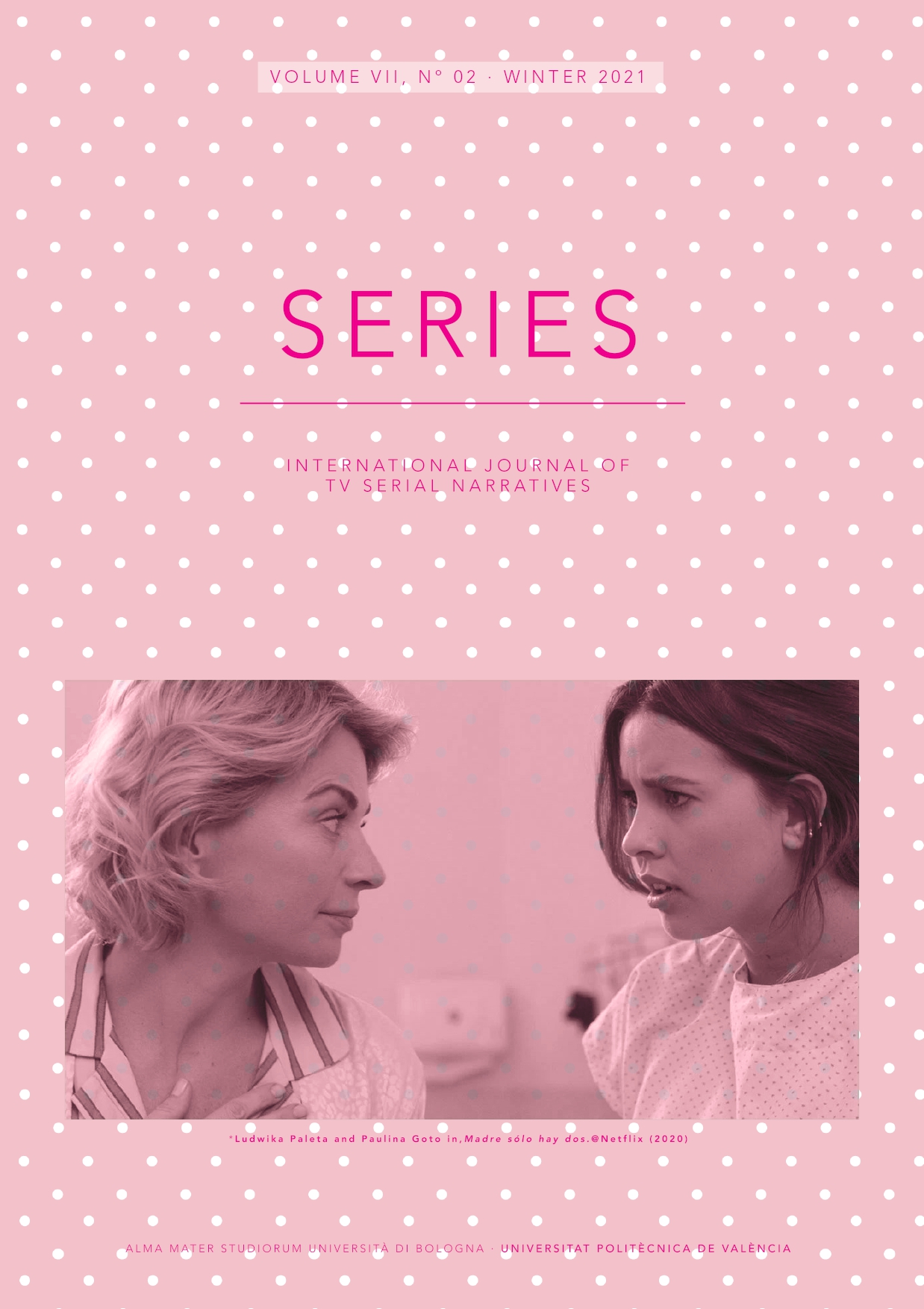 Downloads
How to Cite
Antezana, L., Ábalos, C. ., Lagos Lira, C., & Santa Cruz Achurra, E. (2021). Nostalgia by an Unfinished Idea of Chile. The Case Study of "Ramona". Series - International Journal of TV Serial Narratives, 7(2), 09–22. https://doi.org/10.6092/issn.2421-454X/12912
Section
Narratives / Aesthetics / Criticism
License
Copyright (c) 2021 Lorena Antezana, Consuelo Ábalos, Claudia Lagos Lira, Eduardo Santa Cruz Achurra
This work is licensed under a Creative Commons Attribution 3.0 Unported License.