Introduction: Contemporary Proximity Fiction
Keywords:
contemporary fiction, proximity, local networks
References
Castelló, Enric (2004). La producción mediática de la realidad. Madrid: Laberinto.
Castelló, Enric (2008). Identidades mediáticas, introducción a las teorías, métodos. Barcelona: UOC.
Castells, Manuel. (2004). "Ciudades europeas, la sociedad de la información y la economía global." Archipiélago: Cuadernos de crítica de la cultura 62: 41-6.
Dhoest, Alexander (2013). "The persistence of national TV: Language and cultural proximity in Flemish fiction." In After the Break: Television Theory Today, edited by Marijke De Valck and Jan Teurlings, 51-64. Amsterdam: Amsterdam University Press.
Fiske, John and John Hartley (2003). Reading Television. London and New York: Routledge.
Guimerà, Josep Àngel (2016). "La reformulación del modelo de televisión de proximidad en el contexto de la crisis económica en Cataluña (2008-2014)." Observatorio (OBS*) Journal 10(2): 129-49.
Igartúa, Juan-José and Carlos Muñiz Muriel (2008). "Identification with the characters and enjoyment with feature films: An empirical research." Communication & Society 21(1): 25-52.
Lacalle, Charo (2006). "Ficción televisiva y construcción de identidad cultural. El caso catalán." Opción 23(52): 61 – 71.
Lacalle, Charo (2012). "Género y edad en la recepción de la ficción televisiva." Comunicar 20(39): 111-8.
Marzal Javier (ed.) (2015). Las televisiones públicas autonómicas del siglo XXI. Nuevos escenarios tras el cierre de RTVV. Barcelona, Bellaterra, Castellón and Valencia: Departament de Comunicació de la Universitat Pompeu Fabra, Servei de Publicacions de la Universitat Autònoma de Barcelona, Publicacions de la Universitat Jaume I y Publicacions de la Universitat de València, Col.lecció Aldea Global.
Marzal, Javier and Andreu Casero (2009). "Las políticas de la comunicación ante la implantación de la TDT en España. Balance crítico y retos pendientes." Sphera Pública: revista de Ciencias Sociales y de la Comunicación 9(52): 95-113.
Moragas, Miquel, Carmelo Garitaonandía and Bernat López (1999). "Televisión de proximidad en l era digital: razones para el optimismo." In Televisión de proximidad en Europa. Experiencias de descentralización en la era digital, edited by Miquel Moragas, Carmelo Garitaonandía and Bernat López, 15-43. Servei de Publicacions UAB.
Peris Blanes, Àlvar (2015). "La identidad valenciana regionalista a través de la ficción televisiva: L'Alqueria Blanca." Arxius de Ciències Socials 32: 225-40.
Peris Blanes, Àlvar (2016). "Imaginar la nación a través de la ficción televisiva. Memoria, proximidad y vida diaria." Debats 30(1): 31-47.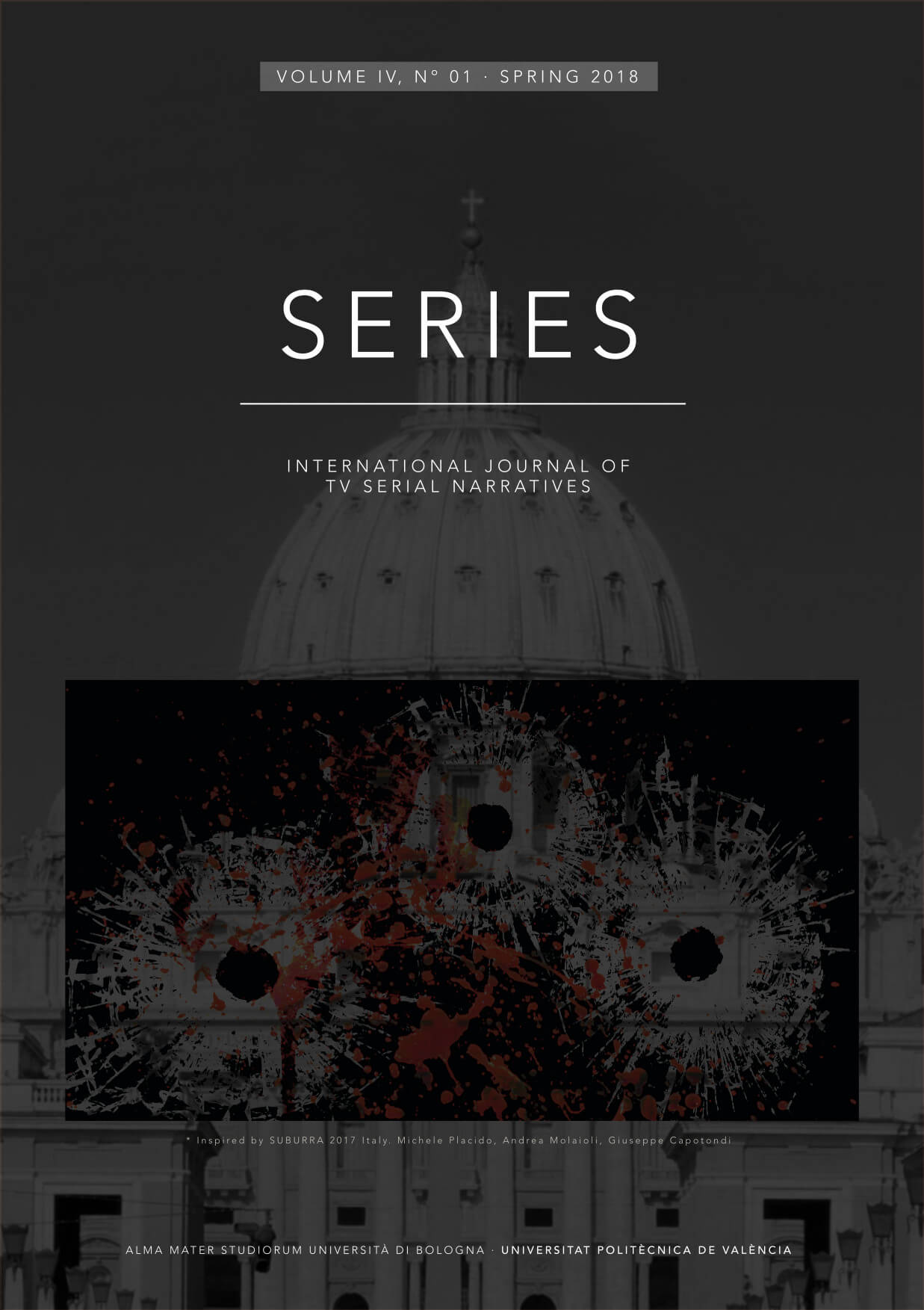 Downloads
How to Cite
Alonso López, N. (2018). Introduction: Contemporary Proximity Fiction. Series - International Journal of TV Serial Narratives, 4(1), 5–8. https://doi.org/10.6092/issn.2421-454X/8391
License
Copyright (c) 2018 Nàdia Alonso López
Copyrights and publishing rights of all the texts on this journal belong to the respective authors without restrictions.
This journal is licensed under a Creative Commons Attribution 3.0 Unported License (full legal code).
See also our Open Access Policy.