Introduction: Capturing the New Dynamics of Turkish Television Series. Disjunctions and Continuities
References
Acosta-Alzuru, Carolina (2021). "Will it travel? The Local vs. Global Tug-of-War for Telenovela and Turkish Dizi Producers." In Transnationalization of Turkish Television Series, edited by Özlem Arda, Pınar Aslan, and Constanza Mujica, 1-26. Istanbul: Istanbul University Press.
Alankuş, Sevda and Yanardağoğlu, Eylem (2016). "Shift or Stasis| Vacillation in Turkey's Popular Global TV Exports: Toward a More Complex Understanding of Distribution." International Journal of Communication 10: 3615-3631. https://ijoc.org/index.php/ijoc/article/view/4808/173
Algan, Ece (2020). "Tactics of the industry against the strategies of the government: The transnationalization of Turkey's television industry."In The Routledge Companion to Global Television, edited by Shawn Shimpach, 445–457. New York, NY & Oxon, UK: Routledge.
Çelenk, Sevilay (2018). "Domestic TV Series and Struggle for Cultural Hegemony (Kendi dizi'mizin dibinde: Yerli diziler ve kültürel iktidar mücadelesi)." Birikim 347: 125-135.
Ildır, Aslı and Çelik Rappas, İpek A. (2022). "Netflix in Turkey: Localization and audience expectations from video on demand." Convergence 28(1): 255–271. https://doi.org/10.1177/13548565211060301
Iwabuchi, Koichi (1998). "Marketing Japan: Japanese cultural presence under a global gaze." Japanese Studies 28: 165-180.
Kaptan, Yeşim and Algan, Ece (2020). "Introduction: Turkey's National Television in transnational context." In Television in Turkey: Local Production, Transnational Expansion and Political Aspirations, edited by Yeşim Kaptan and Ece Algan, 1–24.. London: Palgrave Macmillan.
Ogan, Christine (1992). "Communications Policy Options in an Era Of Rapid Technological Change." Telecommunications Policy 16: 565-575.
Öztürkmen, Arzu (2022). The Delight of Turkish Dizi: Memory, Genre and Politics of Television in Turkey. London, UK and Calcutta, India: Seagull Books.
'Türkiye's series exports to exceed $600 mln this year' (2022, October 19). Hurriyet Daily News. https://www.hurriyetdailynews.com/turkiyes-series-exports-to-exceed-600-mln-this-year-177782
Vitrinel, Ece and Ildır, Aslı (2021). "Netflix Turkey Dossier." Global Internet TV Consortium. https://doi.org/10.33767/osf.io/nq6v3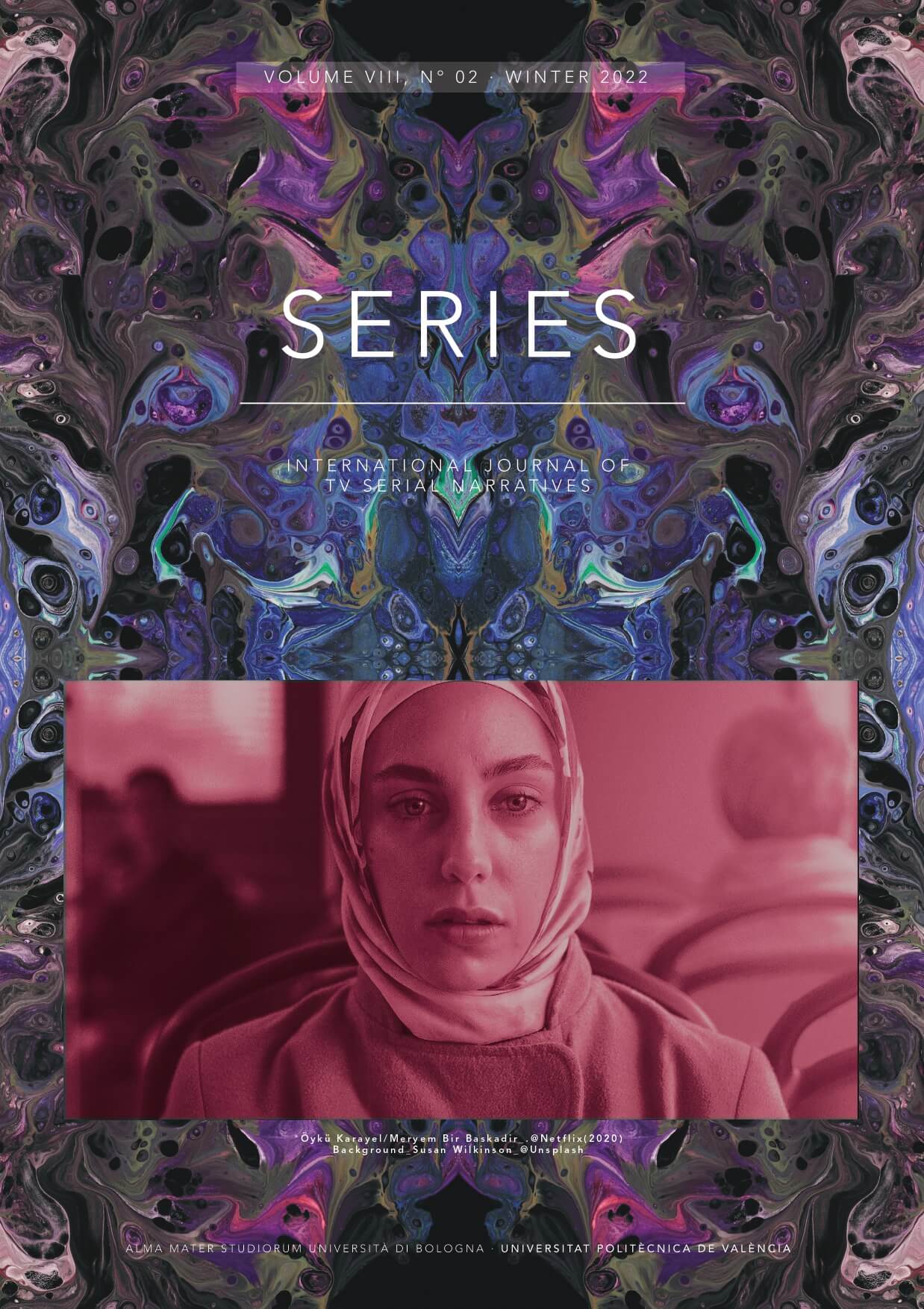 Downloads
How to Cite
Vitrinel, E., Kaptan, Y., & Algan, E. (2022). Introduction: Capturing the New Dynamics of Turkish Television Series. Disjunctions and Continuities. Series - International Journal of TV Serial Narratives, 8(2), 5–8. https://doi.org/10.6092/issn.2421-454X/16308
License
Copyright (c) 2022 Ece Vitrinel, Yeşim Kaptan, Ece Algan
This work is licensed under a Creative Commons Attribution 3.0 Unported License.